Our Community Supported Fishery Vision
Creating diverse local economies that work to enhance the triple bottom line.
Nova Scotia's fishing communities make up the backbone of the province. Despite massive ecosystem and societal changes, fishing activities remain the cornerstone of many of our communities, providing direct and indirect employment in the range of 30,000 people. However, poor opportunities on global commodity markets- coupled with the frustrations associated with buyer consolidation and marketing policies that favour larger industry players- have really put the squeeze on our province's small-scale independent fishers.
We believe that healthy, prosperous fishing communities are vital to the economic, cultural and environmental resilience of our province. We believe that the future of our communities depends upon diverse local economies that work to enhance the "triple bottom line." The triple bottom line refers to the idea that nature, society and economies are interconnected. We feel that long-term solutions must recognize and nurture all three of these aspects together. (To explore this concept further, visit Ecology Action Centre's "Green Economy" page and EcoTrust's "Reliable Prosperity" portal.)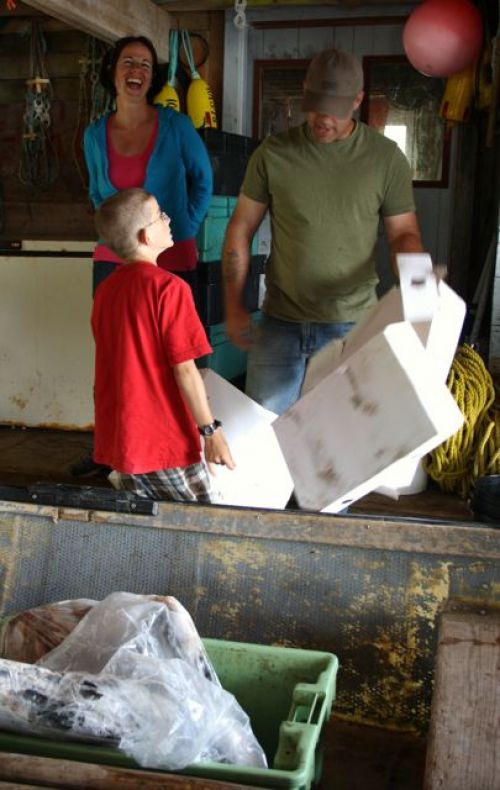 Recently, the momentum of local food movements, along with growing demand for sustainable seafood has helped open doors for small-scale fishers to direct marketing opportunities. As a new study has demonstrated, Nova Scotians are increasingly willing to pay a little more for local, high quality fish caught with low-impact gears, especially if the premium is invested back into the traditional fishery and the marine environment.
Community Supported Fisheries (CSFs) are modelled after "Community Supported Agriculture" (CSA) enterprises, which work to connect consumers to locally and sustainably grown, fairly traded foods. Social enterprises like CSFs help make sure that independent, small-scale fishing families can continue to pursue their livelihoods in an industry rapidly becoming dominated by large-scale, corporate players.
Off the Hook CSF hopes to showcase a seafood direct marketing enterprise that recognizes and nurtures the "triple bottom line. " We are interested in creating opportunities for rural and urban communities to connect, creating more local market links, and generally spurring on a dialogue about local food, sustainable fisheries, and community health. We are also interested in ensuring that low impact fishing gears like bottom hook and line can continue to be used to protect our ocean resources into the future.
Northwest Atlantic Marine Alliance keeps an excellent directory of active Community Supported Fisheries here.

Check out this video from the recent CSF summit in Rye, New Hampshire. Off the Hook was pleased to attend, and we look forward to working with the great people we met there.